QRwave makes one scan order a reality.
QRwave is a mobile application that gives customers an opportunity to place restocking order by scanning QR code on the product label. It automates ordering process and helps support optimal inventory levels for businesses, as well as simplifies and encourages repeat orders in B2C / retail environment.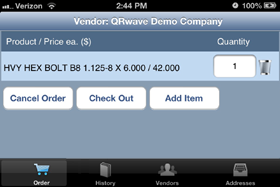 AHG, Inc. announced a launch of iOS version of QRwave - mobile application that allows customers to place restocking order by simply scanning item's QR code.
QRwave is designed to help businesses optimize ordering process and maintain optimal inventory levels. In the situations when field / warehouse workers do not have access to a computer to place an order when supplies are running low, and office employees do not have minute-by-minute access to inventory levels, QRwave serves as a necessary link. One scan of QR code will send either request to the office or direct order to the supplier, helping customer avoid supplies shortage and expedited shipping charges.
In B2C / retail environment, QRwave simplifies re-ordering of the same item, or ordering supplies, such as printer cartridges. Ecommerce vendors can also choose to display information relevant to the scanned item, such as product recommendations, usage ideas or coupons for supplementary products.
More information, links to download iOS and Android versions of QRwave and fully functional demo of the system are available at http://qrwave.ahg.com.